Brandit mountain shoe
Item Name
Brandit mountain shoe
Short Description
Military Bundeswehr mountain boots / mountain boot
True-to-original model according to Bundeswehr TL more info on Thinsulate Insultation: read below
Product Information
Bundeswehr mountain boots which is very popular with mountaineers and outdoor friends. are very robust and universally applicable. A boot of the extreme loads on mountain tours, Climbing or for outdoor friends is very popular. Climate system from Thinsulate: the heat is insulated, while moisture can escape like sweat.
A durable boot for off-road use ideal for work or outdoor activities made of high-quality genuine leather.
Thinsulate-Fasern haben etwa 15 Mikrometer (Mikron) Durchmesser, sind damit feiner als
gewöhnliche Polyester-Fasern und sollen deshalb mit größerer Dichte verarbeitet werden können.
Wie bei allen Dämmstoffen verringert der Raum zwischen den Fasern den Wärme(ab)fluss,
so dass in angenehmem Maße Wärme zurückbehalten wird, während Feuchtigkeit wie z.B.
Schweiß entweichen kann.

Der Hersteller gibt an, dass – bei gleicher Stoffdicke – Thinsulate ein- bis
zweimal so gut dämme wie Gänsedaunen, während es viel weniger Wasser aufnehme
und außerdem elastisch sei. Thinsulate-Vliese werden aus verschiedenen Polymer-Mischungen
erzeugt. Meist handelt es sich vorwiegend um Polyethylenterephthalat (PET) oder eine
Mischung davon mit Polypropylen (PP). Andere Sorten enthalten bisweilen auch
Polyethylenterephthalat-Polyethylenisophthalat-Copolymer und Acrylfasern.
Thinsulate wird auch im Dachinnenbezug des jüngsten Porsche Boxster verwendet.
Diese Zusatzschicht soll nicht nur den Wärmeverlust, sondern auch den Lärmpegel
im Fahrzeug um 50 % verringern.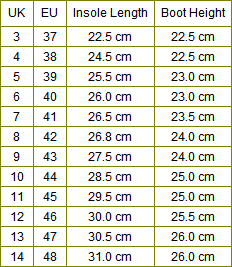 Size advice shoes

The size system for shoes seems a bit complicated at first glance. Anyone wearing size 38 does not automatically have a 38 cm long foot. But how do you find the right shoe size? Simple: put your foot on a sheet of paper without shoes. Draw the outline of the foot exactly with a pencil. Then use a ruler to measure the length between the outermost end of the heel and the longest toe. Add 1.5 cm to this value and multiply the result by 1.5. Now you have your European shoe size. An example of a 23.8 cm long foot: (23.8 + 1.5) x 1.5 = around 38. That's your size.

British shoe sizes (English order size / UK) are measured in inches. Half sizes allow smaller steps between the shoe sizes - for example, between sizes 5 and 6, there is the size 5.5. Divide the last length (foot length + 1.5 cm) by 2.54 (one inch), take the result times 3 and subtract 25 cm: The result is your British shoe size. Easier, of course, is a look at the size chart!

If you are unsure about the size, always measure both feet. If your feet are of different sizes, adjust to the dimensions of the larger foot so that the shoe will not push later. Also keep in mind that your feet may change throughout the day - so in the evening you may be slightly taller than in the morning due to a slight swelling. If you are looking for new chic evening shoes, it is best to determine the size in the later hours of the day. Since leather shoes stretch a bit under stress, you should use values ​​that you measured in the morning for such models.
To make sure you get the right size, please measure the length of the insole of
Your shoe and compare your measurements with our size chart.